COVID-19 SHIPPING NOTICE: During this trying time, we hope that all of our valued customers are staying safe and healthy. We are still open, and processing orders but are currently understaffed. Our employee's safety is our priority. Therefore, any person exhibiting symptoms similar to those of COVID-19 have to self-quarantine for two weeks. Unfortunately, we have had several employees that meet this criterion. Please understand that your order may take longer than usual to process with the exceptionally high order volume and reduced staff. We are doing everything we can to ship orders as quickly as possible. Thank you for your understanding. Stay Safe and Fish On!

SHIPPING POLICY
Our shipping carriers are FedEx, UPS and USPS. A physical address is required for shipping, as FedEx and UPS cannot deliver to P.O. Boxes. Hazardous products, such as Dip-N-Glo™, etc. can only ship UPS Ground. A full list of hazardous products is below.
CONTINENTAL UNITED STATES ORDERS
We process orders Monday through Thursday from 6 a.m. to 5 p.m. EST. We do not process orders Friday through Sunday. Orders placed after Thursday will be received the next business day, which is Monday. We process orders in the order they are received, and we strive to ship as quickly as possible. After receipt, it typically takes 1-2 Business days to process an order before shipping. Changes to your order, such as adding additional items, canceling items, or combining multiple orders, may increase the average processing time and delay your order.

If you select shipping via USPS, do note that the 2-Day or 3-Day Priority Mail delivery is not reflective of how quickly we process your order. It is only reflective of the transit time of your shipment once it leaves our facility. Furthermore, the US Post Office does not guarantee those transit times; they are only estimates.

We send tracking notifications to the e-mail address we have on file once your package is picked up by the selected carrier. Please check your e-mail for shipment information and be sure to check your spam folder as your e-mail service may misdirect notifications.

STANDARD SHIPPING RATES
Shipping rates are calculated by FedEx, UPS, and USPS and are based on the weight of the package, dimensions and the zip code it is shipping to. We do not upcharge shipping rates.
ADDITIONAL SHIPPING AND HANDLING CHARGES
Georgia residents will be charged applicable sales tax on their orders. International customers see Duties & Taxes below.

Large, oversized, multi-boxed, or hazmat items may incur additional shipping charges. You will be notified of additional shipping charges prior to final processing and shipping and have an opportunity to cancel or change your order if you are not satisfied with any additional charges.

INTERNATIONAL SHIPPING
Expedited International shipping is available if the order does not have a product that is considered hazardous. Most hazardous products must ship by ocean freight. If you are an international customer and would like to receive our products, please contact us at sales@ispikeit.com or call us at 912-225-4533, so we can work with you to try and meet your needs.

DUTIES & TAXES
There are no U.S. taxes, except sales tax for State of Georgia residents; however, you will be responsible for any additional customs handling fees, duties and/or taxes. Because each country is different, and these fees change often, we do not know these fees. Your local post/customs office can give you this information. The recipient will be the importer of record and will be responsible for all levies, duties, import fees, taxes and other charges. We strongly suggest that you check with your local government agency to determine the extent of such charges prior to purchase. We cannot issue credit in cases where packages are not delivered due to non-payment of fees.

RETURNS AND EXCHANGES
Most items may be returned for exchange or refund within 15 days after shipping. Items must be new, unused, and in original package. Items must include original receipt, invoice or packing slip. Shipping and handling charges are not refundable. Some items can incur a 15% restocking fee regardless of condition. Please contact us at 912-225-4533 if you have any questions about our return policy or if you are unsure whether your item is returnable or if a restocking fee will apply. Defective items are subject to our inspection before a refund or exchange is approved.
RETURN AUTHORIZATION
All returns require a return authorization from Spike-It™. Before you return an item to us, please send an email to sales@ispikeit.com stating your reason for a return, or call 912-225-4533. All unauthorized returns will not be accepted.
TRANSIT TIMES
FedEx Ground Time-in-Transit Map | Shipping from Brooklet, Georgia 30415 USA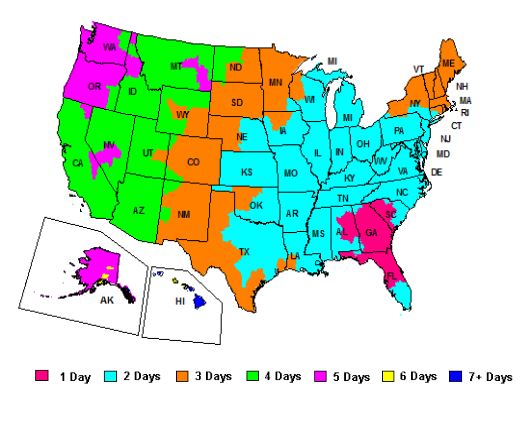 UPS Ground Time-in-Transit Service Map | Shipping from Brooklet, Georgia 30415 USA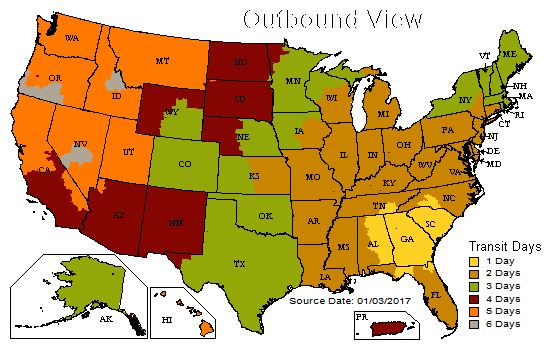 USPS Priority Mail: 1-3 Days

* Transit times are estimates based on carrier websites. Estimated days are business days only. These transit times may vary with the carrier.
SPIKE-IT™ HAZARDOUS PRODUCTS THAT CAN ONLY SHIP UPS GROUND:
LureWorks™ SB Coat™ Soft Plastic Paint, LureWorks™ Vinyl Lacquer Paint, LureWorks™ VPI Paint, LureWorks™ Top Coats, LureWorks™ PVC Glue, Fix-A-Lure™ Glue, All Aerosol Fish Attractants, Dip-N-Glo™ Lure Dye, Dip-N-Glo™ Aerosol Lure Dye, Dip-N-Kit™, Blade Dip, Crank'n Paint™, Dip-N-Glo™ Worm Paint, Jig-N-Dip™, Worm and Chunk™ Paint, UV-Glo™ Lure Dye, UV-Glo™ Aerosol